Let me tell you my Christmas story- Also inside, the recipe for batter fried chilis, perfect for this cold weather here in the UV!!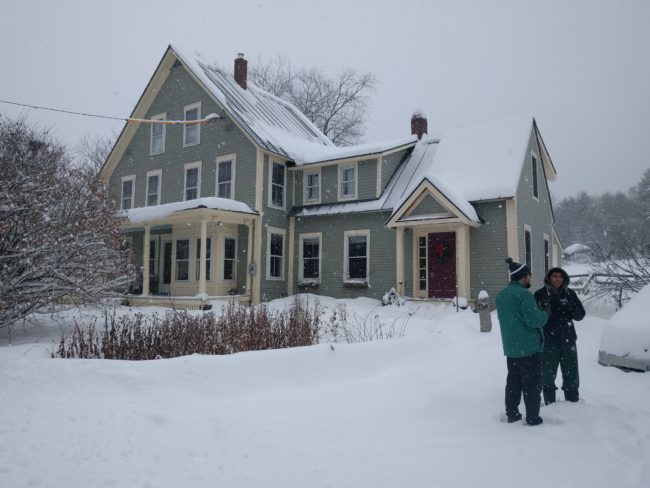 Two years in and I think I finally did Christmas right. How was y'all's Christmas? Mine was simply about food, friends, and the snow. Here in Etna, we were fortunate not just to have a white Christmas, but for the snow earlier in the week, and right on time too! The house was going to be filled with more man power for a snowball fight! Friends from near and far were coming on Friday and I could not contain my excitement. For the entire week, I chattered on about my million plans, to-do lists, new recipes to try, and every complaint to my roommates. We got ourselves a tree, actually Ni went to the local general store to pick up yogurt and came back with a Christmas tree, not to mention carried it all the way back home, the nut job.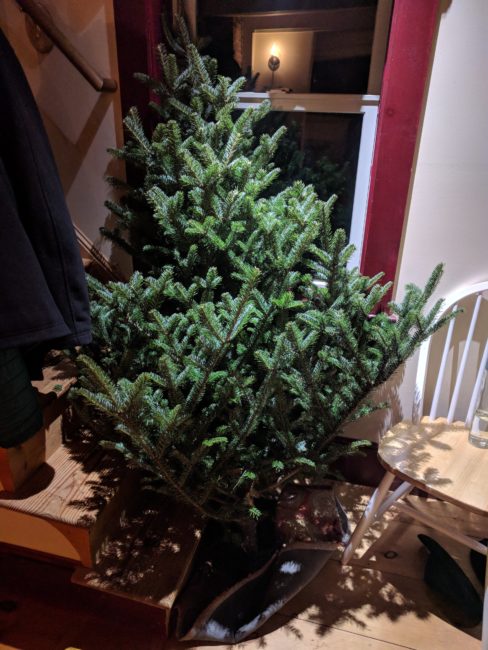 That evening, all of us went to pick up a stand and ornaments for the tree. Clearly the newbies who didn't realise how close we were to Christmas, we came back home empty on the stand and with just the basic ornaments. After reading a lot of articles, we improvised on the stand by sticking it in a pot and using leftover wooden bars from the workshop to help it stand straight. We had to adjust it every once in a while, but we still have a standing tree, people.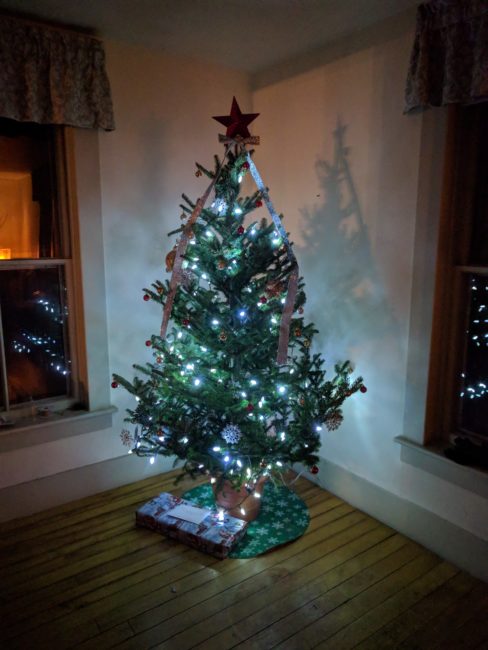 Two friends arrived on Thursday night and after a night of cards and catching up, the next morning we woke up to a snowy day. That day, we got close to nine inches of snow. The first thing we did was make coffee and tea, put on our boots, put on Red's leash and superman winter wear, and headed outside to enjoy the snow.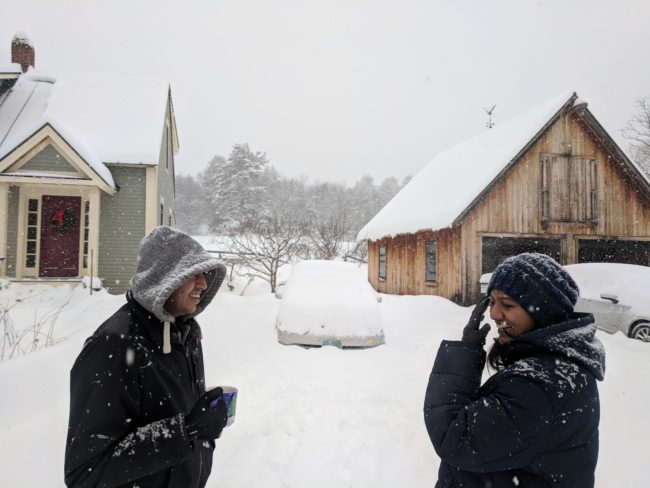 We ran around our backyard like crazy kids, kicking up and falling in the soft pillowy snow, and when we all had enough ice in our shoes and clothes, we packed up and went to our favourite diner for some eggs benedict.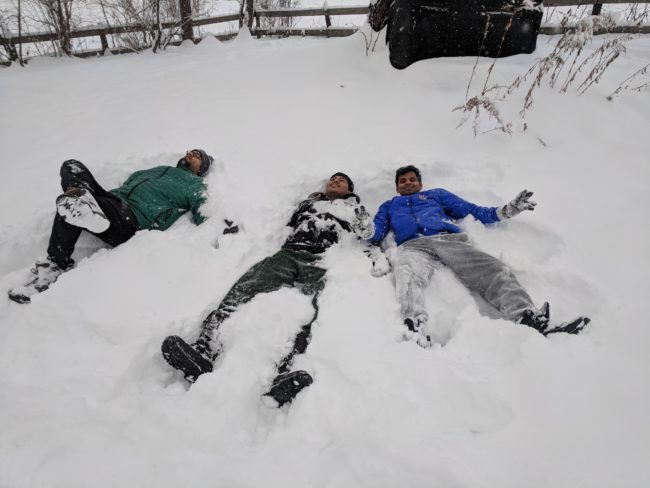 Four Aces makes some of the best bennys this side of the river! And the hot sauces they offer! Oh, to die for! After gorging on the food there, we came back home to a lazy day of playing cards and introducing our friends to 'Ticket to Ride', a strategy game about build trans-American railways. More friends joined us for the evening of games with food and dessert. 
That night Nihit, Ni, and I cooked up a light, fragrant Thai green curry (this time I remembered the strength of my chilis.) We loaded up the curry with all colours of bell peppers, shallots, zucchini, carrots, beans, and bamboo shoots and paired it with some sticky jasmine rice. Even after a dozen of us ate to our hearts content, we still had a box of veggies left (on one of the days when we were feeling lazy, we just made more green curry and added the veggies in the end.)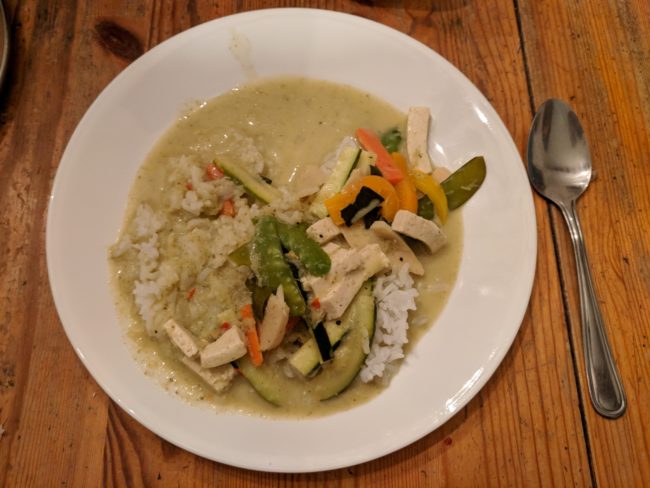 I love cooking with these two! Yes, the kitchen is crowded, but it is so fun! Somewhere in the first week of coming to Dartmouth, the three of us sneaked out of the bar-hop with their dik-chik music to roam the town, slowly discovering that we were so similar. So, there in the local petrol bunk, while singing Fleetwood Mac, we cemented our relationship.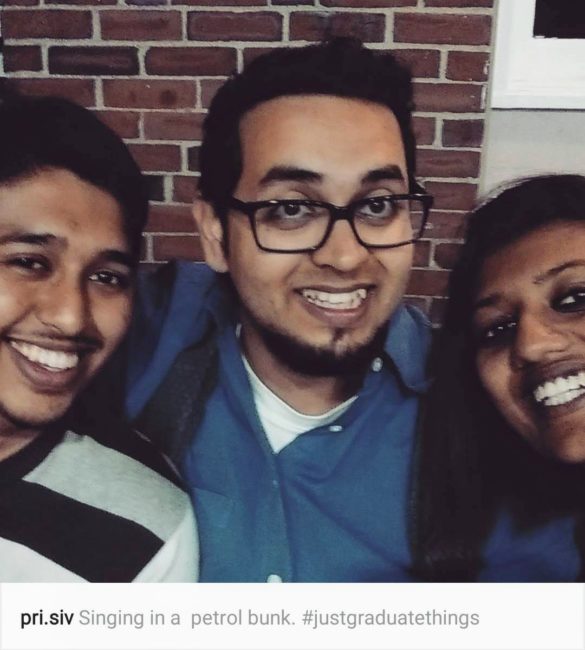 From then, until recently when Nihit moved to Portland (a city he spent all week trying to convince me to move to), we've all not stayed more than two hours away from each other, constantly shoving our faces in each other's lives.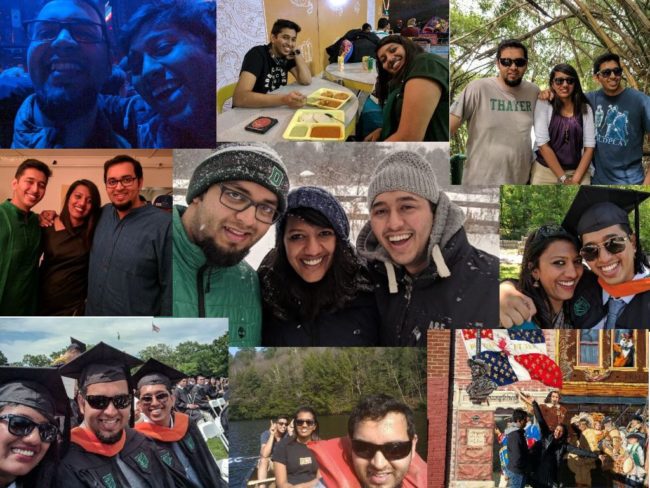 I fell asleep in the wee hours of the morning, somewhere between chalking out my plan for the dinner ahead. I decided to go Indian instead of the traditional Christmas dinner, so on the menu was a Tandoori chicken roast, garlic naan, dal makhni, and kadai paneer that Ni and Nihit were dying to show off about. Preparing for dinner started really late as the whole day went in shopping for the dinner and getting the house prepped, plus I seriously underestimated the time it would take to cook everything. The one thing I ensured, however, was to soak my dal early in the morning and marinate my chicken as soon as I came back from the market.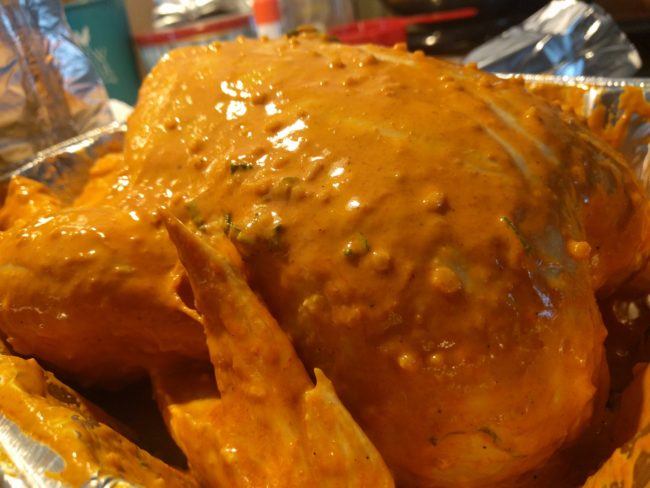 Now, I've never cooked an entire chicken before and the thought of pulling out its insides was giving me the shivers, but to my surprise, Nature's Place has them pre-removed and packed neatly, in case you need them to make a sauce. I made a marinade with yogurt, ginger-garlic paste, lime, garam masala, Kashmiri chili, turmeric, and coriander powder. Ideally this is something that should be left to marinate overnight, but since we didn't end up shopping earlier, I was only left with 7-8 hours of marination. Later in the evening, I stuffed the chicken with shallots, lime, and garlic, lined the pan with onion rings and diced potatoes and cooked the chicken at 400 F, for about one and half hours, until the outside was nice and golden and it had a bit of char to it.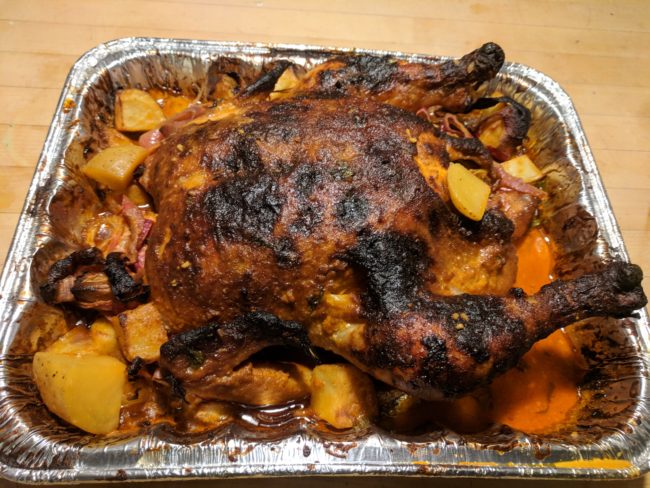 For the dal makhni, I cooked the soaked whole urud dal (with the black husk) twice, once in the pressure cooker and then again with the other vegetables and masala. The idea behind a dal makhni is to slow cook it so that the lentils become mushy and creamy, lending to the weight of the dish itself.  Plus it is cooked in butter and cream. It is finished off by smoking it with some hot coal. So simple and unassuming, but packed with richness, flavour, and surprising heat in the end. When I was a kid, I used to think that ice cream is the solution for world peace and now I think it is this dal. I want to cook huge amounts of this dal, go from house to house, feed everyone this dal and all will be right with this world. In the rush of preparing dinner, I didn't get to take any photos, but I'll just use that as an excuse to make it again and put up the recipe soon. 
For the kadai paneer, the boys dry roasted some coriander seeds, cumin, red chilis, and peppercorns and blended that into a powder. For the gravy, they made a puree out of onions, tomatoes, ginger, garlic, and cashews and loaded it with cubes of colourful bell peppers, purple onions, and paneer (cottage cheese), seasoned with the special ground masala and salt. This was also smoked with coals. I love the flavour and complexity it adds to a dish. All you have to do is seat a cup in the gravy (make sure it doesn't sink) and place a hot coal inside. Add a few drops of oil and close the lid quickly. The oil will smoke out the coal and circulate into the gravy.
We enjoyed all of this with some homemade garlic naan. Well, to be technical, I made a small mistake when I used chapati flour (whole wheat) instead of all-purpose flour out of habit. Quite honestly, I didn't even notice till I was making the first naan and then I was like wait a minute, this is brown in colour! Such a duh moment. So we had garlic chapatis for dinner that night, cooked over naked flame. I ate so much that night! So much so, that I was willing to volunteer to shovel the driveway to help me stop feeling full. And to tell you the truth, shovelling ain't that hard when you have a driveway full of friends sharing the pain.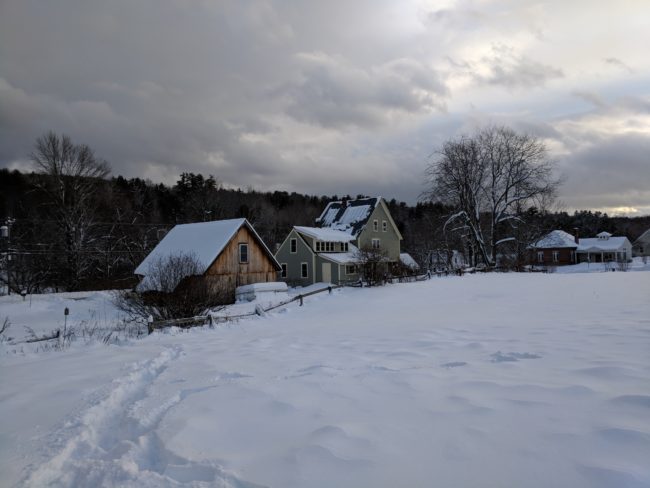 The next morning we woke up to more snow and after a big breakfast of crispy dosas and coconut chutney, we all set out to do some sledding. Just across the fence is a small hill and when the snow is fresh, it is the best place to sled (that and the golf course, of course.)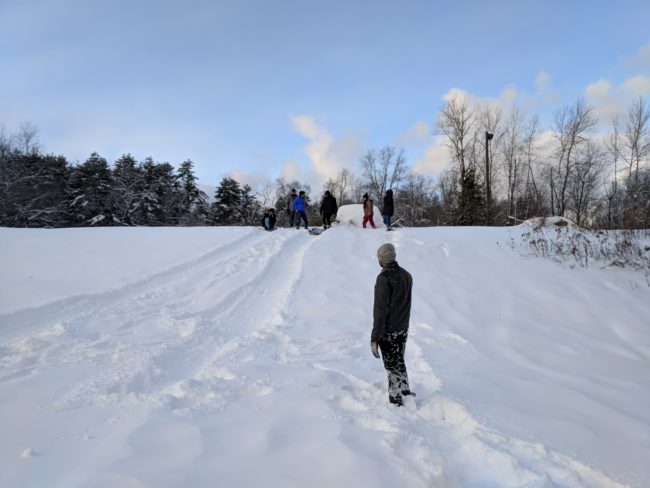 Once we started freezing, we quickly returned home to a roaring fire. Since it was a super cold day, I decided to spice it up with something called 'molaga bajji'. It is basically long chilis, deseeded and deep fried in a spicy batter. This is the recipe I am going to leave you with. It is a perfect accompaniment for this beautiful winter and if you are like me, on the verge of experiencing temperatures worse than Siberia, you wanna try this spicy snack! All it needs is gram flour, salt, chili powder, baking soda and of course, the chilis.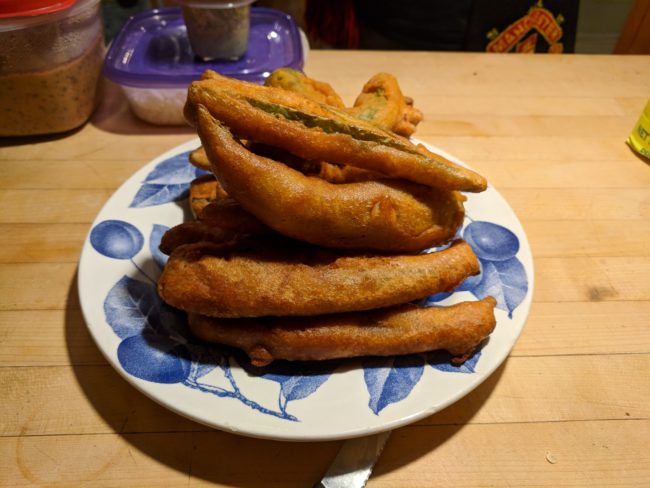 By evening, one by one, people started leaving, preparing to go back to their lives. And then there were six. We all shifted to the warmest room in the house to play cards, filled our glasses with some whiskey, and our stomachs with more food.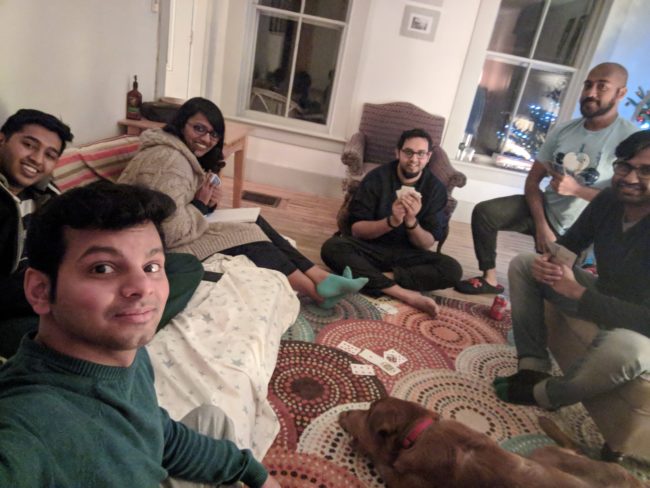 You can find the recipe for the molaga baji here.